This little boy's name is Jonathan, and I was inspired recently reading about his story!
Jonathan lives with his parents Jake and Robyn Zampier, in a home in Trumbull, CT. Jonathan has gone through four open heart surgeries, deals with respiratory issues, and suffers from severe reflux – which requires him to receive 50% of his nutrition through a feeding tube. He has also been diagnosed with Down Syndrome and autism. Even with all his challenges, his parents say he is a bubbly boy who doesn't let his ailments get to him.
A lot of his great outlook has to do with his furry companion named Shadow, who is a Golden Retriever service dog from the North Star Foundation. The Zampier family adopted Shadow at just 7 weeks old, but so quickly, he became Jonathan's best friend. The Zampiers were initially afraid that their son might be lonely, and are instead so grateful for Shadow in their lives.
The North Star Foundation places puppies with children with autism and other special needs. The Founder, Patty Dobbs Gross, believes that bringing children and the puppies together early on forms an emo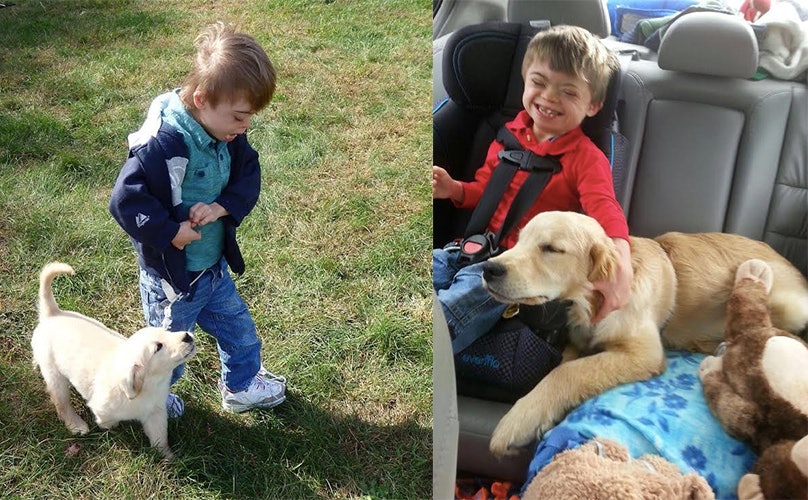 tional, inseparable bond. With Jonathan, the bond is even more important because of his health and developmental issues.
Shadow and Jonathan attend a customized training session twice a week where the pup learns important skills to better assist the Zampiers. The trainer teaches basic commands, along with how to alert the parents when Jonathan is experiencing physical challenges. Similarly, they also work to ensure that Shadow fulfills Jonathan's emotional needs, as it can be very lonely to be different. Whenever Jonathan is home or in a social setting, he has a constant companion who's always got his back. And it is not just Jonathan that benefits from having Shadow; their beloved Golden Retriever also provides the rest of the family with unmatchable friendship. Shadow has even added a special layer of responsibility to Jonathan's life, since he is in charge of caring for and feeding his four-legged friend. Jonathan has an increased purpose in life helping to care for Shadow.
Since the North Star Foundation started, it has placed more than 250 assistance puppies around the world. 100 of these children are on the autism spectrum, and the rest of them have Down syndrome and emotional challenges including grief, anxiety, or pain from serious illness. Volunteer families foster the puppies for the first couple of months before they are placed in perfectly matched homes. Each puppy is given appropriate training to suit the needs and personality of the children and to ensure that the relationship is compassionate, safe, and delightful.
This was such a touching story for me to learn about. While reading all about Jonathan's personal challenges as such a young boy initially made me sad, I was uplifted and motivated to read about how much joy and purpose Shadow has helped bring into his life.
________________________________
Written By: Ashley Florscher
This blog post was written by a member of the eVero Outreach team. The Outreach program aims to teach individuals with disabilities marketable job skills, and enable them to find gainful employment. To learn more about eVero Outreach, click here.