Here is a story of some animals you would probably never think could be helpful serving as therapy animals!
There is an Oregon children's hospital who is now employing these two unique therapy animals to help with the patients and bring lots of smiles. One of these animals is an alpaca named Napoleon, and the other is a llama named Rojo. Kelly Schmidt, a social worker at Providence Children's Center in Oregon, said she never realized the power animals have bringing healing and joy to people like this. She truly believes these animals are now given a purpose more than just entertainment.
Eight years ago, Lori Gregory and her daughter Shannon had to go through an extensive process to get certified with Rojo. Since then they have done over 1000 visits, and added four other llamas, and three alpacas. They go out almost every day of the week as part of the non-profit they started called Mountain Peaks Therapy Llamas and Alpacas. Shannon says it is a neat feeling taking a giant 400-pound animal everywhere.  A lot of times you get a look of shock at first when people see the animals and then you get the people get intrigued wanting to feel how soft they are. He looks cool!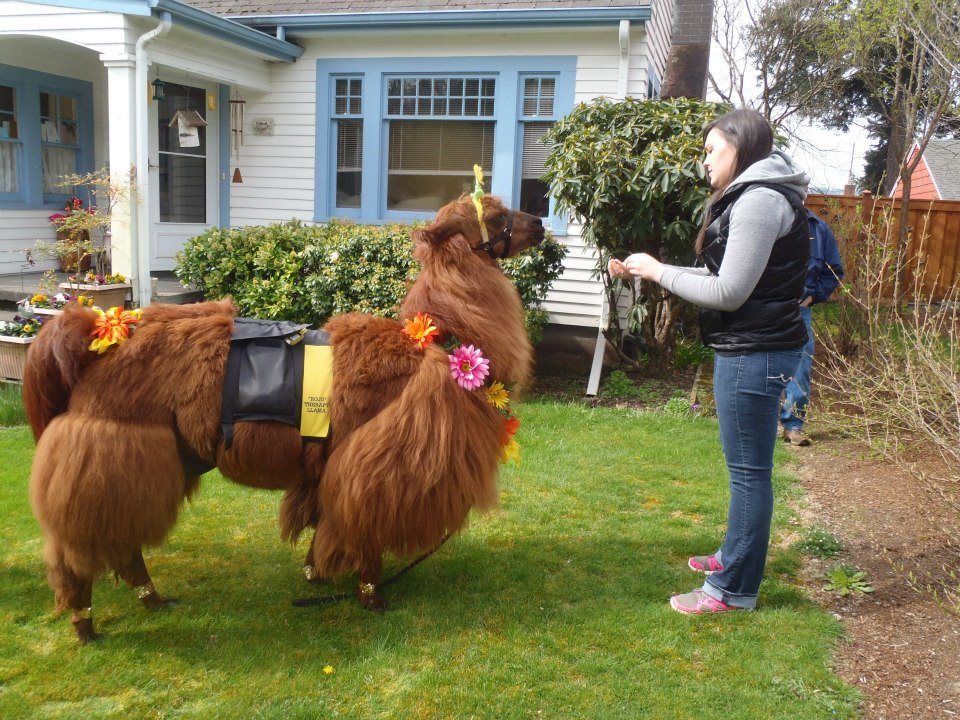 Then there are the infamously popular "carrot kisses": Rojo and Napoleon will gladly take a carrot from your teeth while you hold it between your lips, and give you a kiss as they take the carrot! Llamas don't have any upper teeth, just bottom teeth, so they don't bite. Shannon and Lori cut up bags of carrots every day to take with them. From the Scerendipity Center to Innovative Services for people with special needs, carrot kisses are the highlight of their day. Shannon always loves seeing people's excitement when they get that first llama kiss. No matter how many times in a day Shannon just loves seeing people so giddy and just being the source of that joy really brings so much joy to her heart.
And of course, their cute outfits also bring out the joy in people. You can even befriend Rojo on Facebook!
The Mayo Clinic says that animal-assisted therapy can reduce pain, depression, anxiety, and fatigue. Smiling and laughter are also good for your health and longevity. The simple act of smiling has been shown to activate the happiness centers in the brain, impacting mood. Even a forced smile will do it. But make no mistake — with Rojo and Napoleon around, no one is forcing a smile. This is pure, genuine joy.
________________________________
Written By: Ashley Florscher
This blog post was written by a member of the eVero Outreach team. The Outreach program aims to teach individuals with disabilities marketable job skills, and enable them to find gainful employment. To learn more about eVero Outreach, click here.